Bio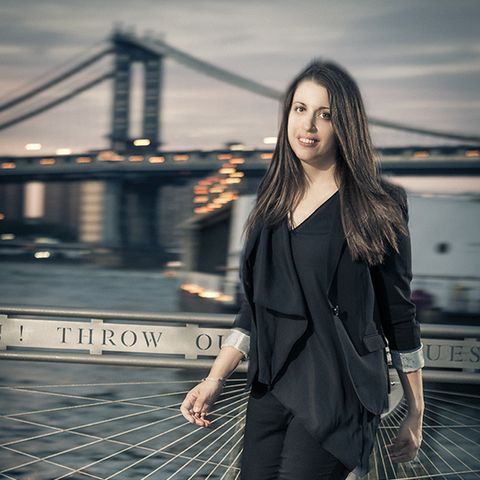 NYC based trombonist Sara Jacovino is an ambitious trombonist, composer, and arranger who has drawn the recognition of many of her peers nationwide. Hailed by the likes of David Baker as having a completely unique voice, she has been recognized with various awards from the BMI Foundation, Downbeat Magazine, the Airmen of Note, The International Trombone Association and other festivals and residencies. 

Sara can be heard performing as a bandleader of her own quartet as well as member of several well respected NYC institutions including: The Birdland Big Band, The Diva Jazz Orchestra, David Berger and the Sultans of Swing, Band of Bones, The Manhattan Bridges Orchestra, The Afro-Bop Alliance as well as countless composers' orchestras. Throughout her time in NYC, Sara has performed along side and developed an association with many jazz and pop greats such as:The Vanguard Jazz Orchestra, Michael Feinstein, Darcy James Argue's Secret Society, Johnny Mandel, Lou Marini, Claudio Roditi, Steve Davis, Dafnis Prieto, Idina Menzel, Adele, Aretha Franklin, and Frank Ocean, amongst others. 

Sara has established herself as an active musician in the Broadway scene. She currently holds the tenor/bass trombone chair in "Tina, The Tina Turner Musical" at the Lunt-Fontanne Theatre. Past musical theater chairs held include tenor trombones in King Kong at the Broadway Theater, bass/tenor trombones in Hercules at the Delacorte Theatre, jazz tenor in the 2016 Maurice Hines musical Tappin' Thru Life and the tenor/bass trombone chair in the 2018 production of Elf, The Musical at Madison Square Garden. She has subbed on and made television appearances as a part of numerous other Broadway productions.

Sara is a sought after session musician as both a lead/section trombonist and soloist, credits including among others, The Macy's 4th of July Firework Show and the The Met Gala. Sara's playing can be heard as a past member of the Grammy Winning Jazz fusion ensemble Snarky Puppy on albums including: "Bring Us the Bright," "The Only Constant," "The World is Getting Smaller" and "Real to Reel." 

Her writing and playing is often featured by the Birdland Big Band, The Diva Jazz Orchestra, and can be heard on numerous albums by the University of North Texas One O'Clock Lab Band including: "Lab 2008," "Lab 2007," "Lab 2006" and "Live at Blues Alley, and by the award winning UTubes Jazz ensemble. She is sought after for commissioned works of music in various styles and ensemble configurations by her peers as well as university and festival ensembles. Sara was a featured artist and commissioned composer at the International Women in Brass Conference in Toronto, Canada.

Sara earned both a BMus and MMus degree from UNT while studying composition with Neil Slater and Paris Rutherford and trombone with Steve Wiest and Tony Baker. She enjoys working as a guest artist and clinician for University and High school jazz programs. Sara will be a guest performer and clinician at both the International Trombone Festival in 2021 and IWBC Festival in 2022.

In addition to performing and composing, Sara enjoys digging in her garden and collecting day lilies. 

Sara is an XO Performing Artist.